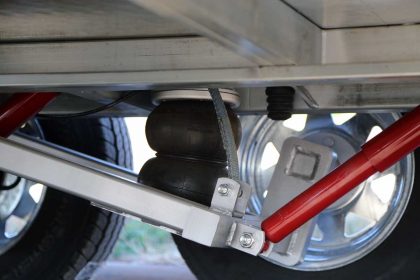 Our airbags are equally at home in trailer suspension as they are in our Load Assist Kits.
Over the past few years we have sold components for all sorts of different trailer suspension designs and for uses ranging from caravans to car trailers. Often we play a big part in the design of the overall solution providing advice on how to achieve the goals of our customers.
Some of our customers are wanting their trailer to go up and down quite often and others are looking for a smooth ride on road and off.
For low loader style car trailers, we can offer a compressor and tank set up with a 4 channel wireless remote control that can be used to raise and lower the trailer and even operate a winch. We can also provide setups where the trailer can be used to supply air for tyres, air tools etc.
Where the airbags are all about load carrying, we can provide self levelling valves which, when coupled to a tank and compressor, will ensure the trailer or caravan stays at the predetermined height regardless of load. This solution is a good safety measure for any airbag trailer as a slow leak in a trailer is can be hard to notice and the last thing you want is to find it's been riding on the bump stop for the past 100ks.
If you have customers who are looking at and airbag system for their trailer, feel free to tap it to the extensive knowledge and experience of our team to help you give the best advice.